Wow. It has ben such a long, long time since I last posted. The longest in the history of this blog, in fact-- which has been a part of my life for 7 years now. The future is uncertain in a lot of ways but I'd love to be able to explain my absence on here.
In the last several weeks, I moved from my house-- where I was commuting from school for a month-- to a beautiful historical West Adams victorian mansion, left my internship of this summer, almost went insane during midterms, made a ton of new friends I envision knowing for a long time... and totaled my car. These photos below are from the day of the crash-- taken a couple hours before. I'm putting them up and releasing them so I can hopefully begin the healing process. It's been both challenging and immensely rewarding to learn how to navigate life without a car. For one, its placed me firmly in school-- a good thing considering most of my adult life has been spent driving around LA's traffic-ridden streets, even when I should probably be in the library studying. It's also allowed me to trust and depend on others (something I've felt hesitant to do in the past) as well as required me to let go of the reigns a little bit and see where life takes me. I'm not sure when I'll get behind the wheel again (theoretically I have an internship lined up for the spring) but for now I'm learning to live in a different way.
These photos are of my new room in the house. The bedding is all from Urban Outfitters as well as the lamp, which I adore. I also put up some of my film photos because I've been getting back into photography lately. Hopefully some of that will show up on the blog soon, but for now, I hope my absence has been a little bit explained. You can still follow my day to day
on instagram
as well.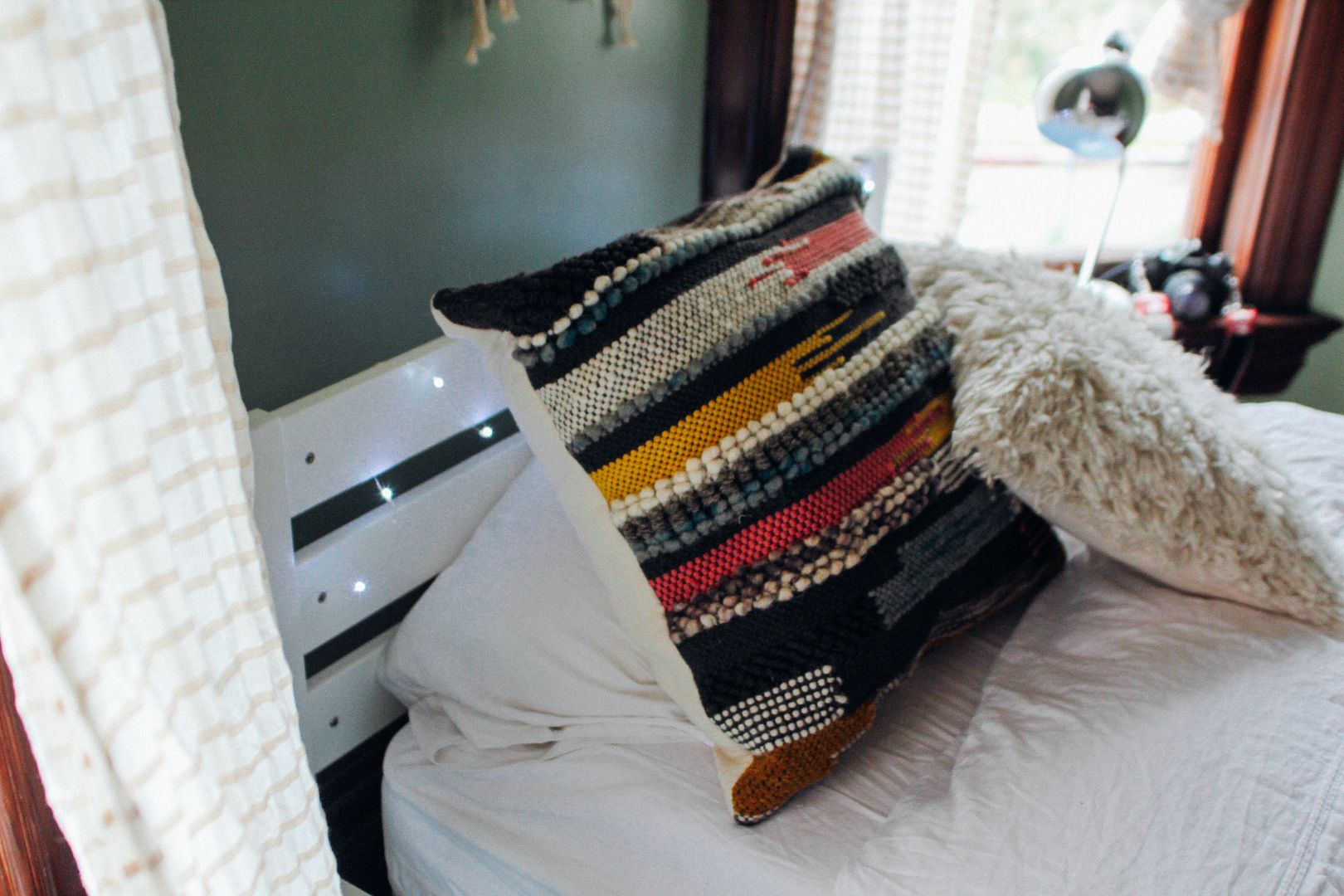 Plum and Bow pom pom duvet cover
,
Assembly home shaggy pillow
,
Hooked stripe weave pillow
,
Gumball desk lamp,
and
firefly string lights
.
Until next time xox