So it's finals week, and you can basically guess what that means for me.. I'm overloaded with work and completely behind. However, tomorrow is my last day, so rejoice, because another post is coming your way by Friday. I love rhymes. In the meantime, here's what I've been up to. (As always, all images taken from my
instagram
).
Piled my favorite Zara jacket on again with an
American Apparel fisherman pullover.
I also tied a velvet green choker around my neck and thereby was officially wearing read and green for the holidays. My best friend
James
(she was actually wearing the same sweater as I was but in the confetti color) snapped this photo of me right before we reunited with our other triplet from high school. It's so crazy to me that I'm a sophomore in college now.
A shot of my apartment with our new lights! I promise I will do a full blown video room tour soon (as in the next two weeks or so!)
As a college student living off campus in an apartment (and therefore without a meal plan) I have struggled with learning how to effectively grocery shop, budget time (i.e. not let the milk expire) etc. I think I've hit the home run with pomegranate seeds though. I can handle those.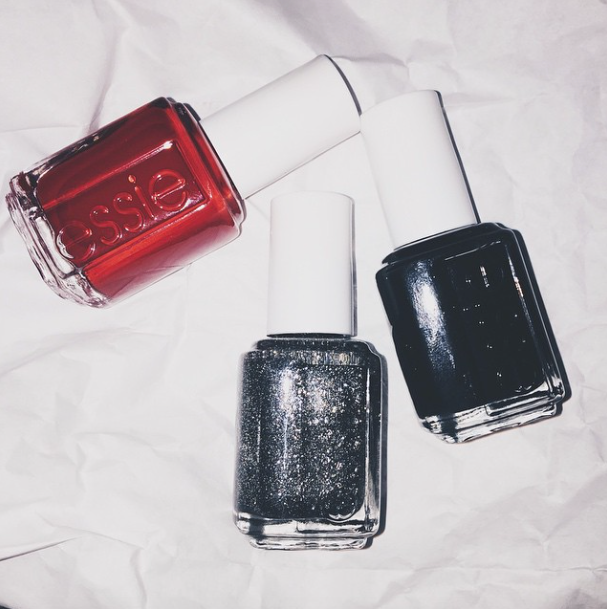 Treated myself to these three nail polishes for the holidays. From left to right:
Russian Roulette
,
Ignite the Night
(sold out every where except
beauty.com
) and
Licorice
-- all by Essie.
Still loving this little faux-leather tote bag from
Urban Outfitters
. It's the perfect size and shape.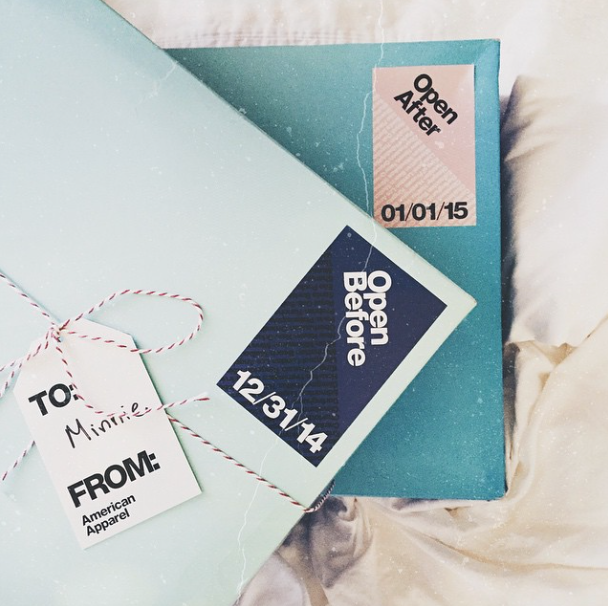 American Apparel sent me some gifts in the mail. Can't wait to show you what's inside! Santa totally came early this year and I kinda couldn't ask for anything more.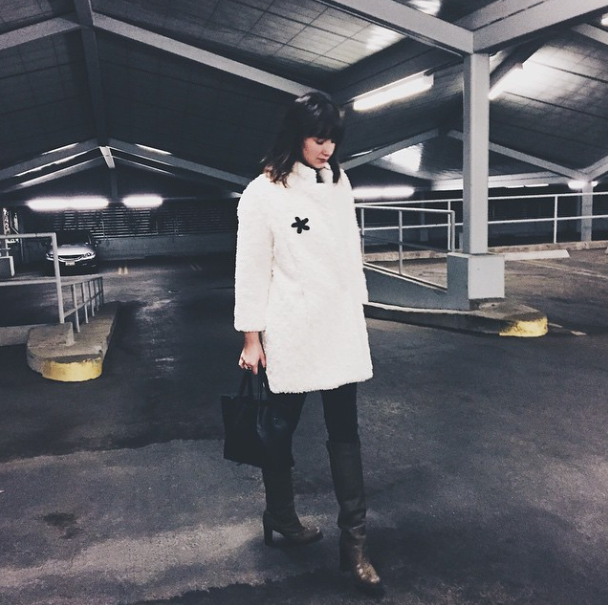 Went to listen to some christmas music in Pasadena with my mother this Saturday. I'm a sucker for choral music-- it gives me chills. I broke out this faux fur coat (similar one
here from Forever 21
) because it just screamed holiday festivities to me. I even threw on an antique black glass floral pin for good measure. I love this time of year.
The power went out in my house the other night but thankfully I had Amy Poehler's book Yes Please and plenty of candlelight to get through the darkness. Also,
this little mercury glass box rectangular candle
came in the mail just in time for the power outage. Go buy it now, it's the best scent and decoration.
Its the holidays, which means I've literally been eating desert non-stop. Absolutely terrible but I'm trying to live with no regrets right now. No, not #noregrets. Just generally not having regrets in my life and embracing what comes my way. Who needs new years resolutions when you can start
today
?
For those of you interested in film, I follow a podcast called Scriptnotes by John August (a fellow USC alum who is the sweetest!) and Craig Mazin. John August recently kickstarted a project to develop a deck of cards that helps writers during writers block. It's called the Writer's Emergency Pack and even though I never do anything kickstarter-y, I had to support the cause. I finally got my deck in the mail this past week and I love it so much. You can learn more about the cards and John August (and the podcast!)
here
.
xox