I know controversy surrounds the day every year, but I really think we need to all take the pressure off Valentine's Day and just use it as an excuse to wear delicate dresses and write beautiful cards, for your significant other or even just your friends. Remember in elementary school when everyone gave each other candy and little cards? In third grade, my class had a Valentine box-making competition and I decorated mine in pink and green floral wall-paper, and it was so much fun. Although I'm not suggesting box-decorating for your holidays, I am suggesting that we harken back to the younger days when we just considered Valentines day another holiday that should be fun and happy.

Last month, when I was going through a break up, one of my friends told me to "drink lots of water and sleep in pretty things." I really loved that piece of advice and think its good to translate into the rest of life as well. We don't need a day to tell us what to wear or how to feel about being in a relationship or being single, but we can use it to kick start some positive things in our lives, such as buying lace underwear and dressing up and loving yourself.
An inspiration board I made in honor of V-day. I'm all about Mindy Kaling's character Kelly Kapour-- the classic hopeless romantic-- from
The Office
, Cher and her golden locks and Alaia dress from
Clueless
, stunning baby Angelina Jolie and of course a lot of chiffon, velvet and lace.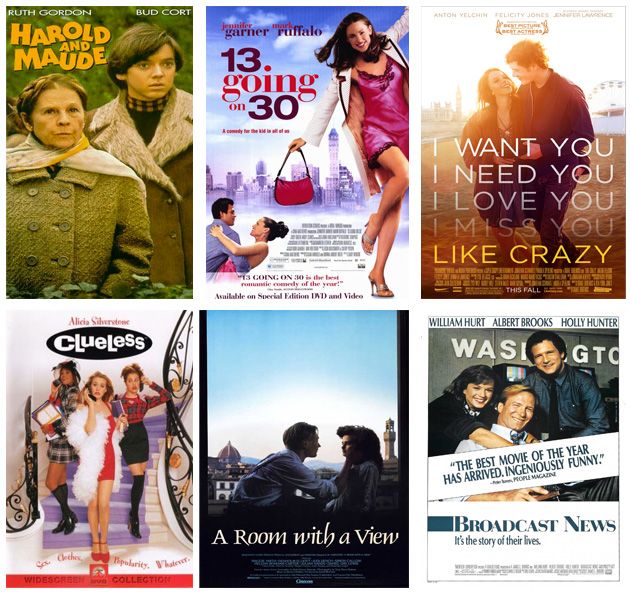 Because I go to USC film school I get a lot of questions on
tumblr
about my favorite movies, so here are some of my favorite romance-centered movies, unrequited/platonic/romantic or otherwise. They're pretty much all available on Netflix and are perfect in their own ways.
Broadcast News
and
A Room with a View
are two of my most famous films, and who can go wrong with
13 Going on 30
?
If you're going through a break up now or if you just like short films, I really love this one by Todd Strauss-Schulson. It stars Thomas Middleditch (an incredible comedian I've had the fortune of seeing perform in LA) and Alexi Wasser (one of my favorite
bloggers
who wrote a great article
here
). I think it really sums up the whole breakup experience while being positive and hopeful. Normally I find short films corny, but this one hits the spot.
Some pretty things I found online. All of it looks good.
xox