Anyways, to the answers! I didnt answer all of them mostly to remain mysterious.... and it wouldve taken 11271891283721 years to write it all down as well. Sorry to those people who asked questions that I didnt answer, I tried my best.
What jewelery do you want right now?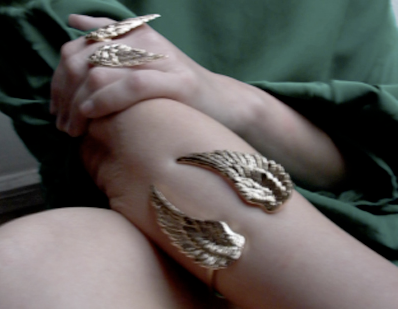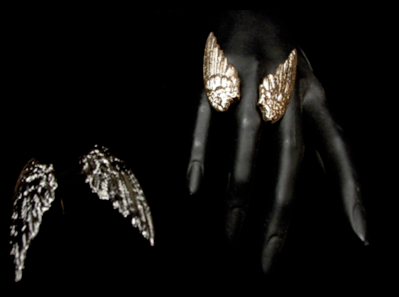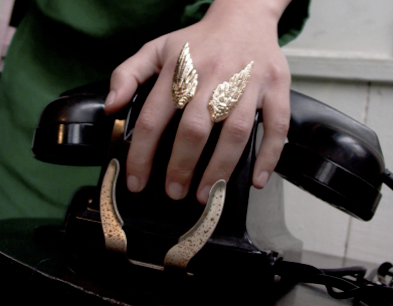 Like I wrote about in the post before, Im really addicted to jewelery right now. When I thought about purchasing some rings, immediately these angel wing rings from
Sowat
in Paris came to mind, because I remember seeing them on
Lulu's
blog
almost a month ago. Im currently really craving the angel ring in gold, just because I think it would look outstanding. I cant seem to get it out of my mind. And the price for 45 euros, which roughly translates to$64 seems like such an amazing price for an amazing piece of jewelery, especially since from the few emails Ive traded with the designer, Sophie, how spiritual the pieces are and represent, they seem like they hold a lot of value and meaning...
What type of camera do you use? A Canon Rebel XSi with standard lens.
Do you edit your pictures? Yes, I use picnik.com
Whats your favorite piece of clothing in your closet? Whats your favorite pair of shoes? Im really loving this American Apparel lace black leoatard, and my favorite shoes right now are my brown Jeffrey Campbell cowboy boots.

How has your style or outlook on fashion changed since you started this blog? I used to be way more vintage oriented. Like, I thought wearing vintage made you instantly stylish. I was a lot more confused, I followed trends more. Now I do what I like, I know what to play up, and I know what flatters my figure etc. etc.
If you owned a boutique with all your favorite brands, what city would it be in, what would it look like? Definitely it would be in Paris. It would have items like T by Alexander Wang and the newest Nicholas Kirkwood for Rodarte shoes, and probably an entire wall devoted to Christian Louboutin heels, but it would also have beautiful gowns in it. Like the Jean Paul Gaultier dress Marion Cottilard wore to the Oscars a few years ago.

Have you ever made a piece of clothing? Like, stiched it from bolts of fabric? Nope, other than just pinning the red fabric I talked about in a recent post, but I have designed a few items on paper, including an incredible shoe that I want to go into production... right now.
How tall are you? Im 5'6' and a 1/2
How old are you? Im currently 14

Your dream travel destination? Greece. I dont know why, but suddenly Ive been thinking of it a lot. I imagine its incredibly beautiful there.

Do your friends know about this blog? A few of them do. Only one knows the URL and the rest of them dont really care. Every other kid I know have no idea.

How many hours per a day do you spent on the internet? It depends on the day. Sometimes it can be 3, other times it could be none at all.

Do you have an all-time favorite, style-defining, most-beautiful-and-inventive-thing-you've-ever-seen collection? Yes. The Jean Paul Gaultier Spring 2008 Couture collection.
Where is your favorite place to shop? The goodwill, because you can never know what you might find.
Do you like vintage? I love vintage. Its so cool to think that the clothes your wearing had a previous owner and past. Its sort of magical.

Whats your favourite book? Right now I really love The Hunger Games, but it changes all the time. I did a summer reading list on chictopia of a few of my favorite books in categories, and although I could recommend a million more novels and such, check it out here.

How much do you spend on clothes every month? It changes. Sometimes its $100 or sometimes its just $5 (hello Goodwill!)
What have you been addicted to in the past? Neopets. I had a veryveryvery big addiction to Neopets.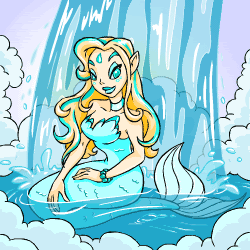 What can you say about yourself that no one would know just by looking at you? When I was little I had a fairy doll collection. Im very into mystical things. Like crystals and karma and intuition and palm reading etc. etc.

When you're shopping do you have some sort of budget or you just buy whatever you feel like no matter what the cost? Oh no. Ive never bought something over two hundred dollars, excluding shoes. Theres this Topshop coat that Im looking at right now thats $300 but I doubt Id ever buy it. My aunt has a rule that you can splurge on shoes and handbags, because the rest (shirts, jeans, jackets) you can make yourself.

How did you get that internship with Chip + Pepper? Chip and Pepper are friends of the family, so they let me intern for two weeks for a school project.
Would you consider ever wearing clothes that are not exactly from famous fashion designers? Of course. As long as I like the piece of clothing it doesnt matter who its designed or made by.

How do you feel about AA's use of sexist advertising? While theyre ads are not desireable and verging on pornography, I like their clothing, and Im not a big person on protesting.
How do you feel about Michael Jackson? I love his music, and he was an incredible dancer, he was so inspiring and it is very sad that he passed away.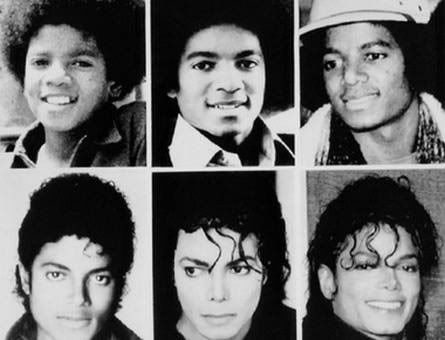 What magazines do you read?

I have subscribtions to Nylon, Vogue, Elle, and Harpers Bazaar. TeenVogue is also great. Also, online magazines like Spilled Milk and Sieg are awesome.





What sites/blogs do you look up?

All of the blogs in the "Fantastics" category on my sidebar, plus TheSuperficial.com and Style.com, occasionally nylonmag.com and teenvogue.com.





How do you find out about new collections?

Style.com and Elle.com are great places for collections. Elle.com is actually the best because they have more a selection of designers than style.com.





Do you sometimes let the fact that your blog is popular get to your head?

I truthfully dont think my blog is popular.

I like not seeing everyone wearing what I wear. I don't mind standing out or other people who do.




Are you a social butterfly around your peers or are you more reserved?

Im not reserved, thats for sure. But I think social butterfly is kind of a fussy term. I like to have fun, and Im loud most of the time, so put that into a category.




Do you read all your comments?

Most of the time. Its rare that I dont. Its really nice that people take time out of their day to tell me what they think. It means a lot.





What is one site on the web you can always depend on for inspiration?

I really like Knight Cat but also Pepper and Chips is a favorite inspiration spot as well.




Who do you think is the most beautiful celebrity woman ?

Keira Knightley before she got rail thin.
What is your main incentive behind putting together creative outfits?
I think I like being different than people, but its also fun to wear beautiful clothing, not to mention when Im wearing something I love, it makes
me
feel good.
Where do you find all your cool jewelry?
Everywhere! However, I get a lot of it from my mom and my aunt, as well as flea markets, ebay.com and the occasional thrift store.
What would be the perfect day for you?
Getting up at 8 am, putting on an outfit where I feel fantastic in, eat breakfast, hang out with friends, swim in a pool, write a short story, play the piano, and end the day with dinner with my family filled with a LOT of laughter.
What grade are you in?
Im going into 9th.
What is your favorite joke?
"So a guy walks into a bar.... OW."
How old were you when you started doing this fashion blog?
I was twelve when I first started my first blog, but 13 when I made this one.
Would you rather be in a submarine by yourself for six months or in a rocket ship in space with your best friend for a year?
Oh my gosh. Hardest question ever. Probably the submarine one, because I could take time to write a book and explore the ocean. A year is just sooooo long.
Would you rather be a model in Paris or a musician in Barcelona?
Musician in Barcelona most definitely. I hear Spain is so romantic.
Would you rather be an artist in San Francisco or a dancer in New York?
My mom was actually a dancer in New York when she was in her 20s, and she talks about how much fun it was. So Id probably do that.
Do you tend to stick to more classical pieces on the piano or do you also like playing jazz and contemporary stuff? Are you good at improvising?
I love classical pieces because they are so beautiful, however, occasionally I want to break out in Jazz. Im awful at improvising.
Do you have any siblings? If not, do you wish you did?
Nope and nope. I like being the only child.
Sushi or Thai?
Thai. I dont think sushi can reallly fill a person up.
Watermelon or strawberries?
Watermelon.
Would you rather leave and never be able to return to the United States again or be able to travel anywhere around America but never be able to go to any other continent/country in the world? (And keep in mind if you choose the first, your family/friends can come to visit you wherever your travels take you.)
Where do you guys come up with this stuf… well t
hats another hard one, because I love Los Angeles, and Portland and New York a lot. I guess the latter, because I really want to travel the world.
How does your hairstylist cut your hair? Do you have layers on the outside or underneath? Are your bangs layered?
I got layers underneath. I asked for a more "shaggy" look. My hairstylist, for those of you in LA, is Illiana at
Haas and Co.
on Larchmont Blvd.
Are you homeschooled like camille from childhood flames?
Nope. I go to school.
Do you have any fashion icons?
Audrey Hepburn for sure.
Post a picture of a dress you'd be if transformed into one!
Probably the one below, or maybe
this
one.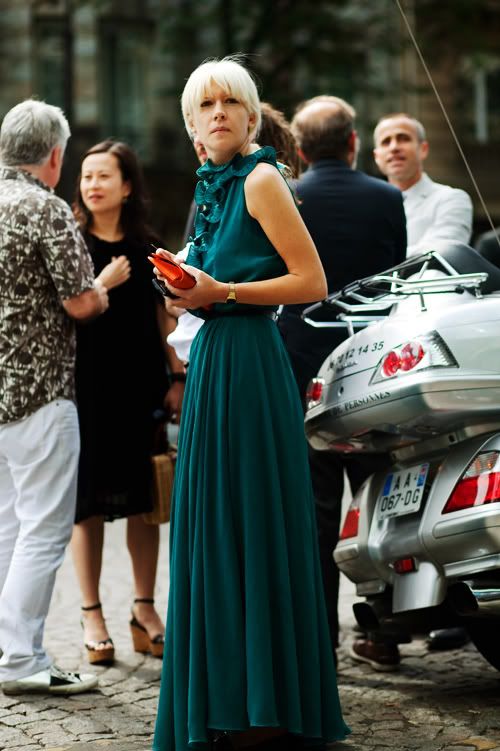 What songs are you listening currently?
Im listening to The Shins a lot, Radiohead, and Soulmate by Natasha Bedingfield, as well as Halo by Beyonce.
Favourite television show?
LOST. J.J. Abrams (the creator and executive producer, as well as the director of Star Trek) is a genius.
Do you use make-up? What make-up do you use on daily basis?
Yes. Stila Smudge Pot in Bronze, Lorac cheek and eyebrow highlighter, Maybelliene gold smoky eyeliner pencil, a bronzer which I dont know the name of, a pearly eyeshadow that I dont remember the name of, Stila Cheery Lip and Cheek stain and MAC lipstick in sea-sheer. Thats what I use on a daily basis, but of course there is the MAC lipstick in Ruby Woo which I use on occasion.
How did you find 'your own style'?
Im not sure if Ive found 'it' yet, however, it sort of just developes and grows as time goes on and as I see more images and collections and pieces of clothing. I like to just go into stores like Urban Outfitters or Nordstroms just to see whats out there and being created.
Favourite SNL character?
Kristen Wiig's character where the one of the SNL actors will go go "I have five dogs," and she'll go "Well I birthed five dogs" Its hilarious. And also the political news person that Fred Armisen plays, where he'll try to talk about heaedlines in the newspaper but can never seem to make his point.
Does your mom check your blog?
Yup!
What do you usually do with the ones you give away?
I will either give them to Goodwill or sell them on my blog.
When are you happiest?
Laughing with friends/family.
Why do feel the need to keep your name private when you already reveal so much about yourself?
You cant really find me if you dont have my name. You know my face but not my identity, I guess? Its for privacy.
How do you deal with negative comments on the internet about your style?
I tend to brush them away. Its so easy to diss someone online I feel like people do it just to do
cause they can be rude, negative and anonymous.
How do you deal with negative comments (if any) in real life about your style?
I cant dwell on them, because it gets me no where. If I have a comment I can say back to them, fine, but if not, its not like somebody died or something.
What "group" would you say you are part of in High School?
Im not in high school yet!
Do you think wearing high heels at such a young age is bad for your feet?
Of course. But Im not a person who wears high heels every single day, all day long.
What clothing/shoe/accessory do you wish would be banned?
Does Ed Hardy count? Haha.
How do you overcome the fear of not wearing "maintstream" clothes?
Im not really afraid... its never really been a problem. At least I cant remember a time when I was afraid to wear something.
What ethnicity are you?
Im swedish, french, german, and romanian. But truthfully Im American! I pledge allegience to the flag....
If you were a mythical creature, what would you be?
An elf!
If you could be a pokemon which would you be and why?
A bulbasaur :)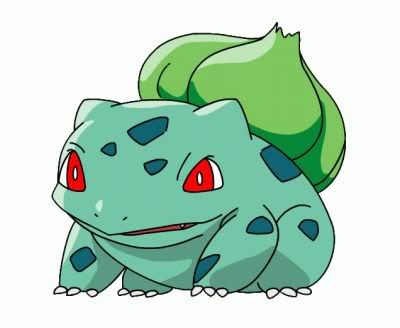 is it hard to keep up with posting things on your blog?
Definitely. Things in life can always get busy, and then sometimes I have all the time in the world.
Have you ever thought of what it would be like to have no arms or legs?
Oh snap I have thought about it. It seems like it would be so hard. My heart goes out to anyone who has to be in that situation.
Have you ever single handedly thrown a cow off a building?
No comment. :P
What colors do you wear the most?
Black and navy.
How would you wear a tank with very big openings without over- exposing yourself?
I would put a lace bodysuit underneath it like
this
one from American Apparel.
Have you ever been offered a modeling job or anything likely through or because of your blog?
Yes!
Favourite subject at school?
English.
What type of phone do you have?
LG Env2.
Would you rather live in countryside or in big city?
Big city definitely.
What's your fav piece to play on the piano?
Clair de Lune. Its so amazing how it rises and falls and softly whispers this sort of tragic story in your ear. I love playing it.
Thanks to the two readers who sent me these photos of rose dresses!
Theyre completely gorgeous.