Being a fellow Oregonian, I wondered if I might take my blogging to the
next
level
by meeting up with a fellow blogger extraordinaire, darling and completely sweet
Camille
! We had an incredible Saturday afternoon running around Portland together.
We first met up at Powells Bookstore and then headed over to American Apparel where the salespeople's uniforms was underwear. I am not joking. Really, it was TMI to the max, (but I did get the much wanted disco pants!!). After that we went to
Odessa
, a small tiny boutique that was incredibly awkward cause the owner kept following us around with her Mac laptop and watching our every move. I tried on an
A.f. Vandervorst puffer vest
and Camille tried on this seriously gorgeous black dress that completely shouldve been given to her because it was exactly her style. However, for $310 + we promised the lady we'd
think
about it and walked back outside into the brisk Portland afternoon.
We then went to Pioneer Square where Camille was (of course) recognized, and then we took pictures of each others outfits and Camille tried to work her video capture thing-a-magig, which I now think I must own because it was so tiny and compact and what not.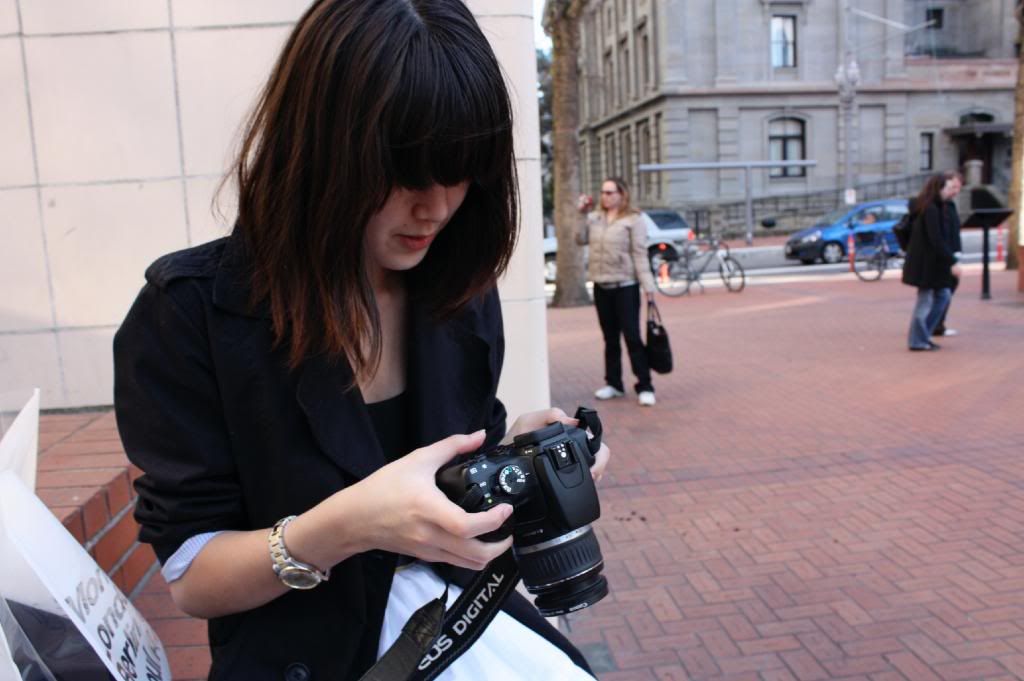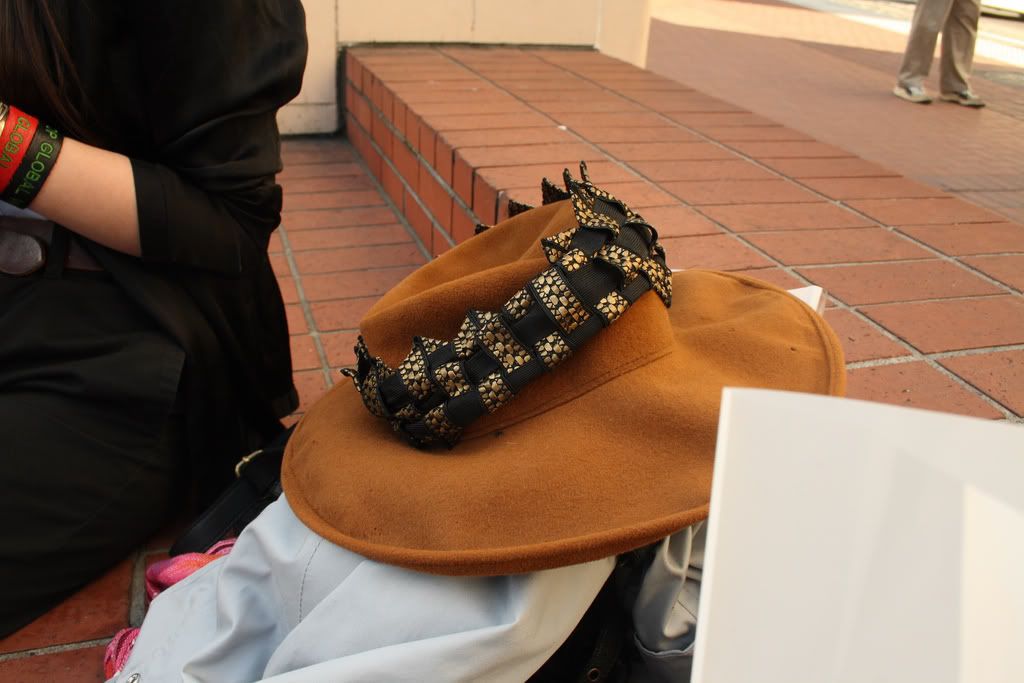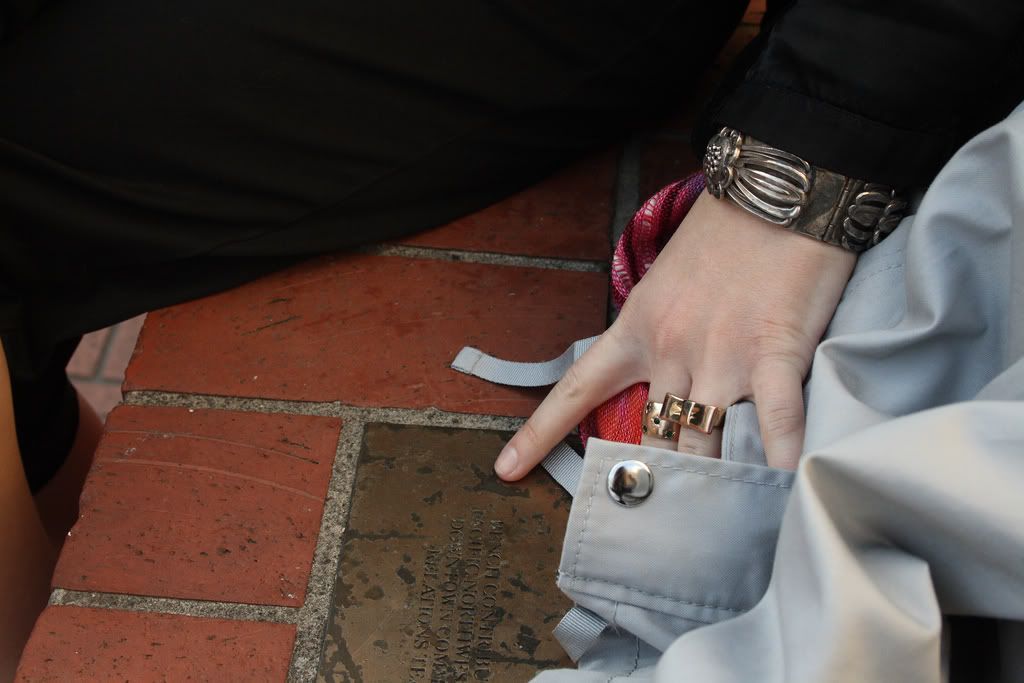 The bench place we were sitting on and my vintage bracelet. The whole day I battled all the stuff I carried around. My hat/camera with protective scarf/H&M gray jacket.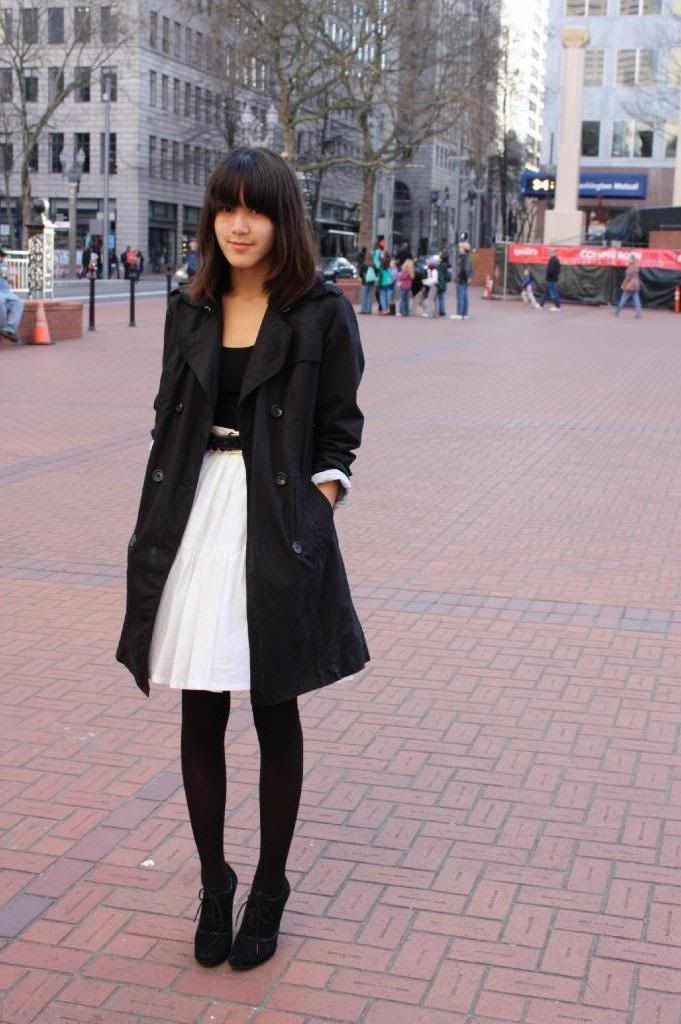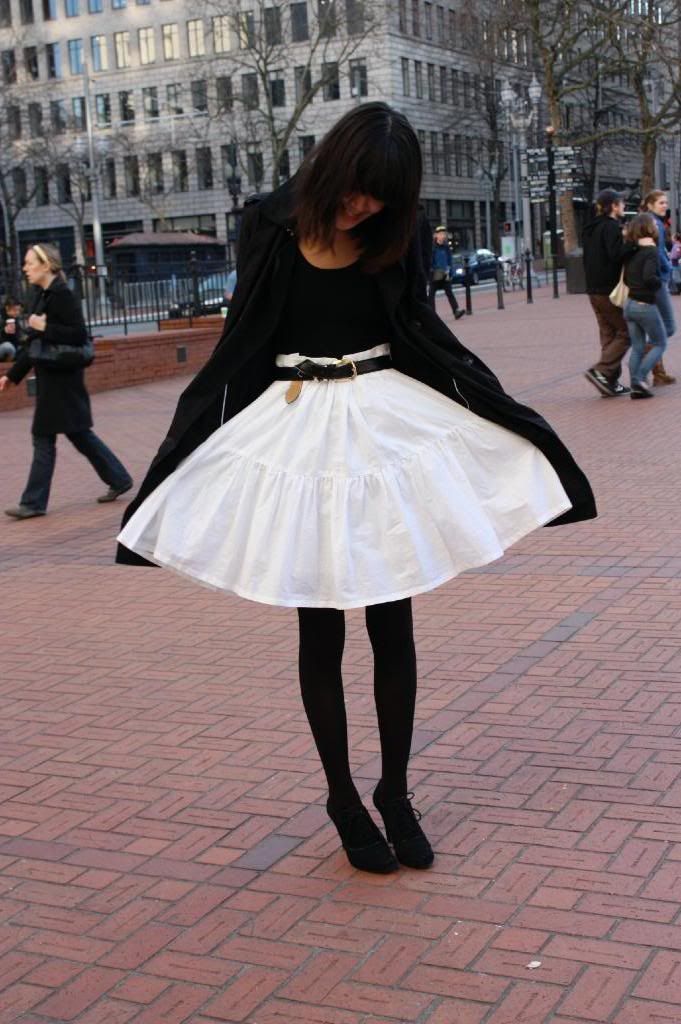 What Camille wore. Only later, from looking at the pictures, did I realize that she ditched her skirt in one of the dressing rooms. Silly me.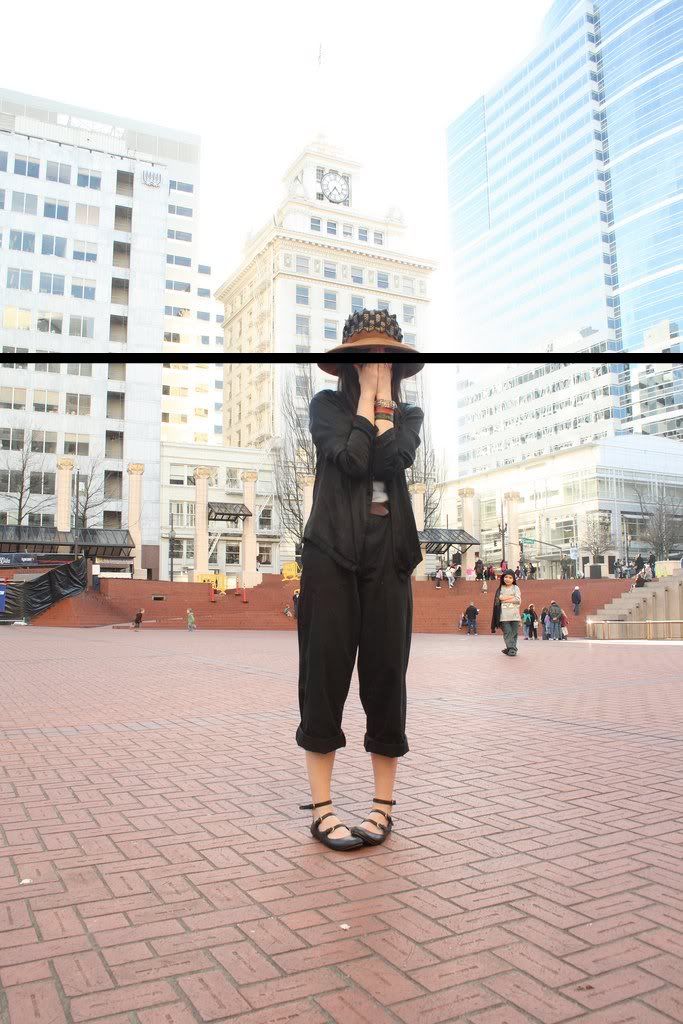 Wearing a vintage hat, vintage jean bustier, american apparel navy leotard, target trousers, vintage brown belt, steve madden flats.
Then we went to nordstroms, then forever 21, then saks, then nordstroms again. There was a LOT of walking. Meanwhile, I fell in love with Camille's little black oxfords and wondered when am I finally going to get a pair of black heels that go with everything?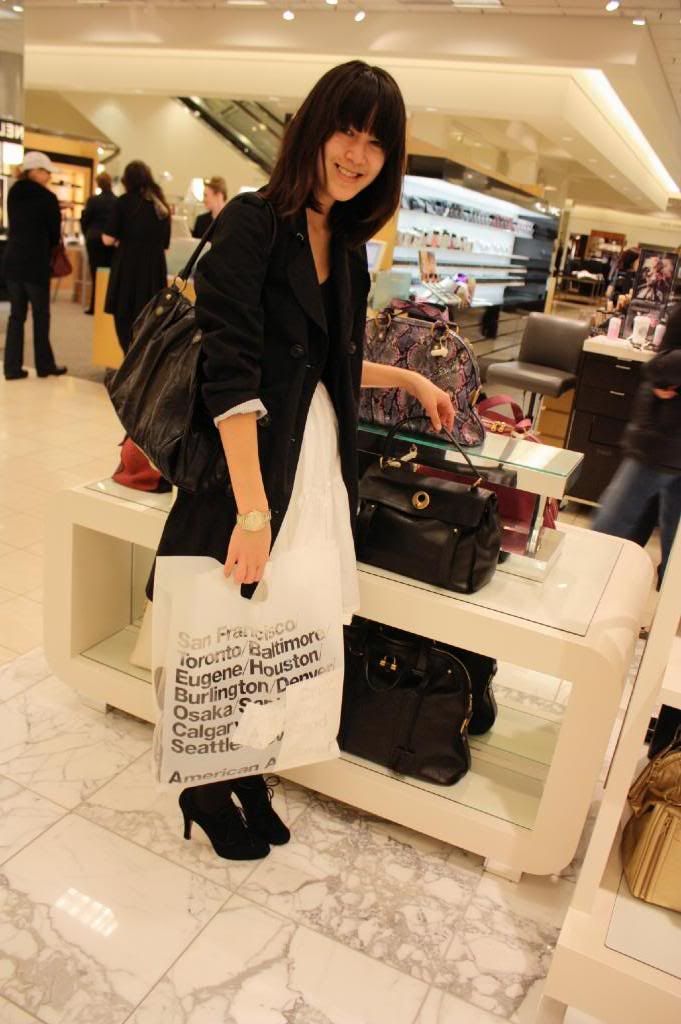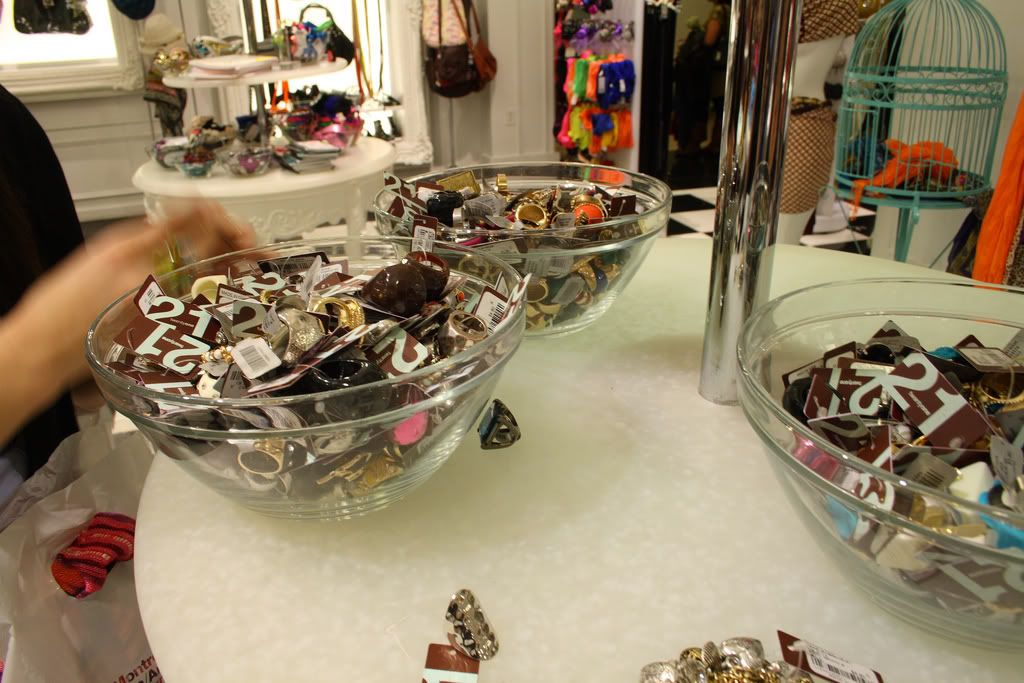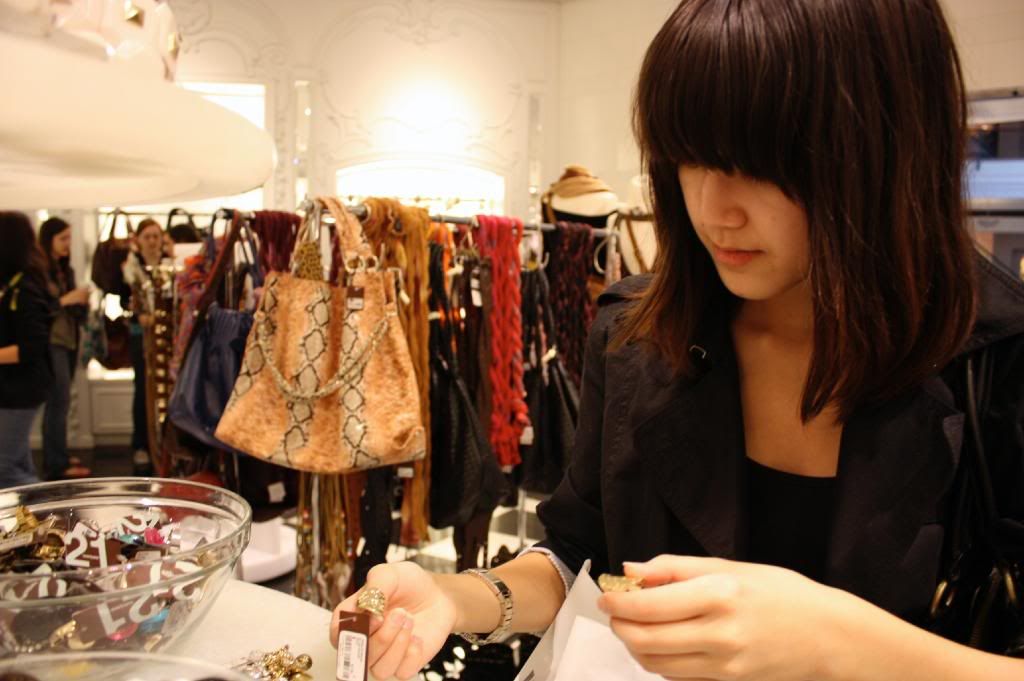 The absolute bountiful amount of rings at Forever 21. We stood there for about 10 minutes rifling through what the bowls had to offer.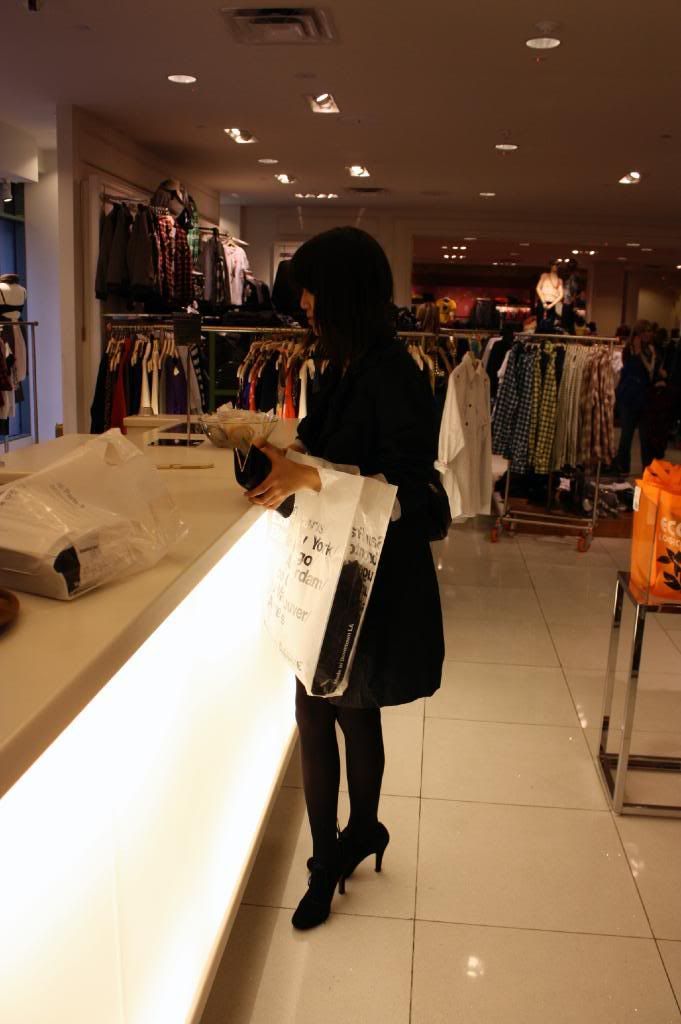 Paying at Forever 21. In the end I got a shirt and 3 rings, and Camille got a shirt and one ring. She tried on
these faux leather pants
but in the end opted out.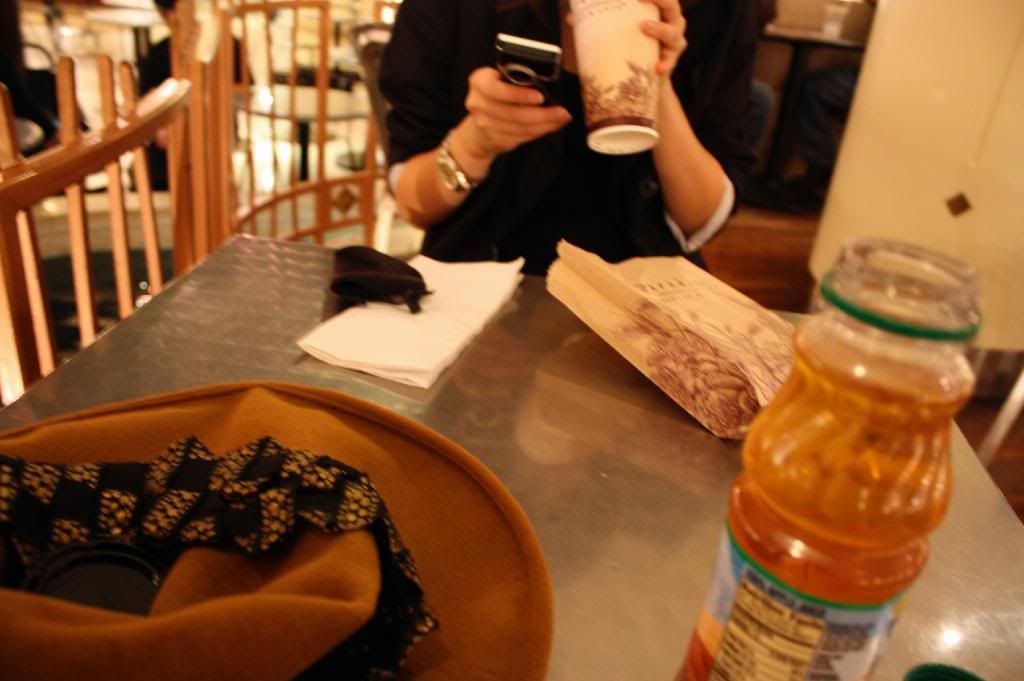 My apple juice and Camille's lemonade and snack.
Absolutely awesome video capturing device. Camille recorded a bit of Portland and if her editing skills work out okay we soon may put it up.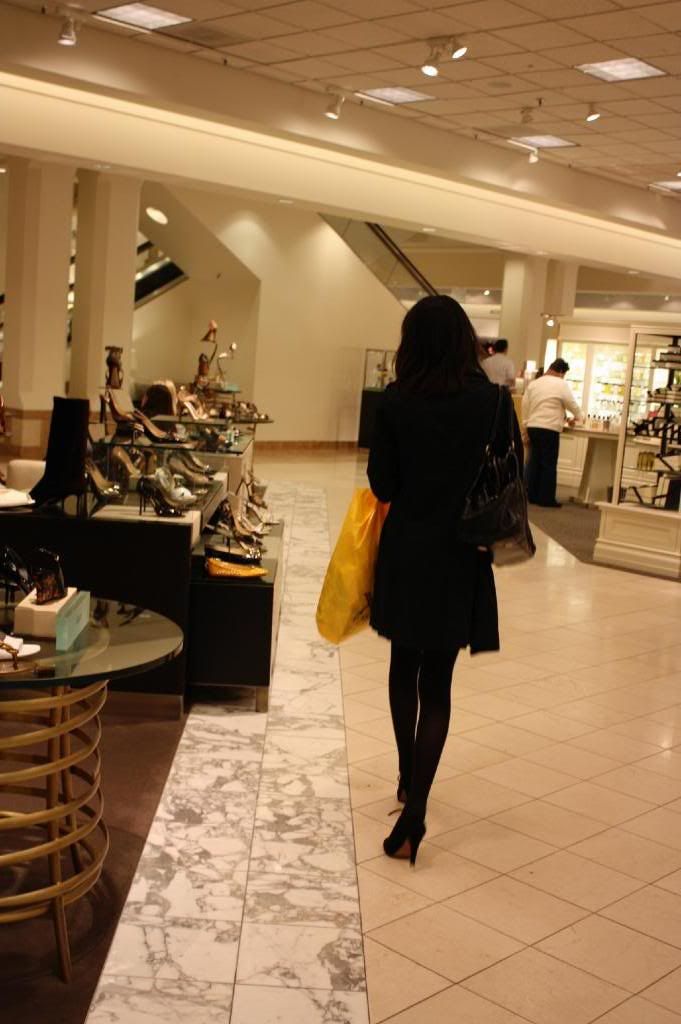 My favorite picture that I took that day. Theres something about all that black against the white of Nordstroms.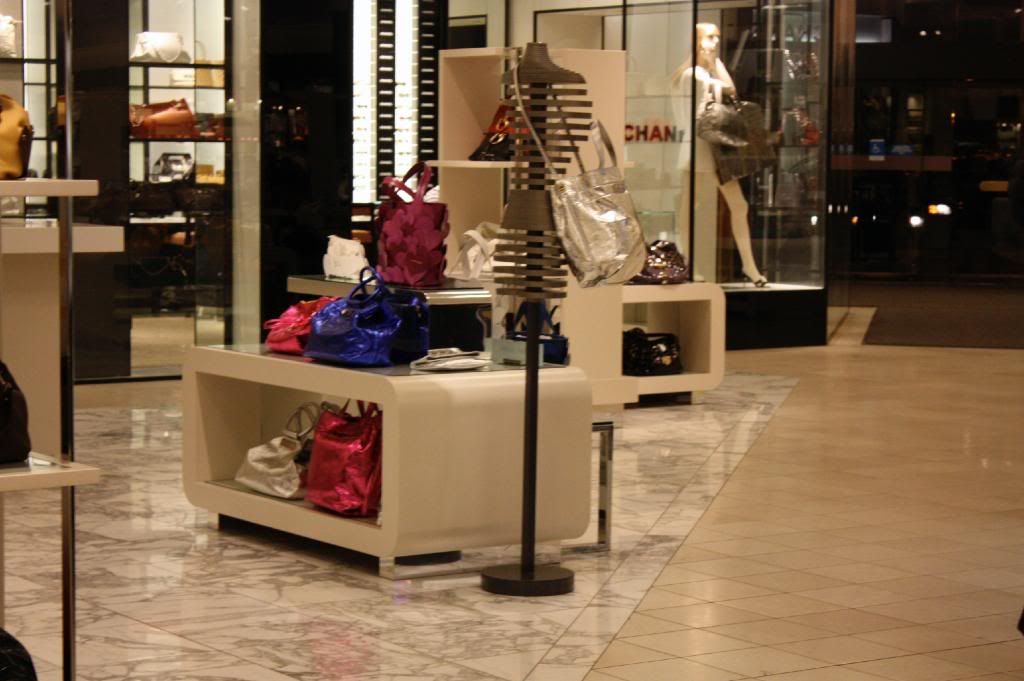 Far away shot of the Marc Jacobs leather heart tote. We wouldve gotten a closer shot but there was this seriously evil gray-haired sales man eyeing us and our cameras.
Camille trying to fit in with the modeling crowd.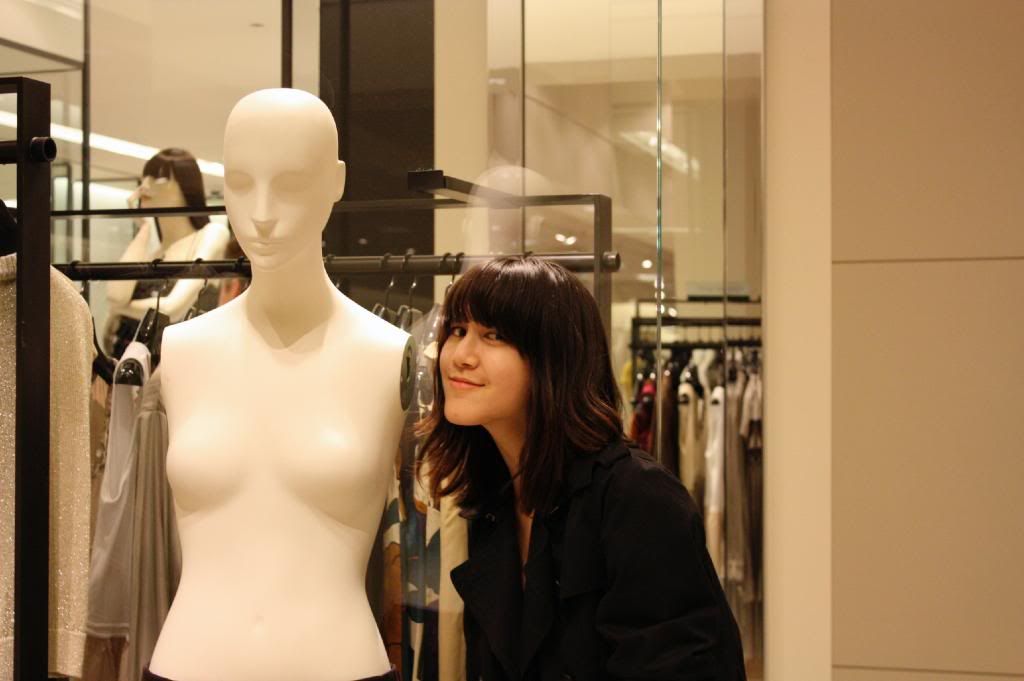 Camille wondering where the mannquin's arms are.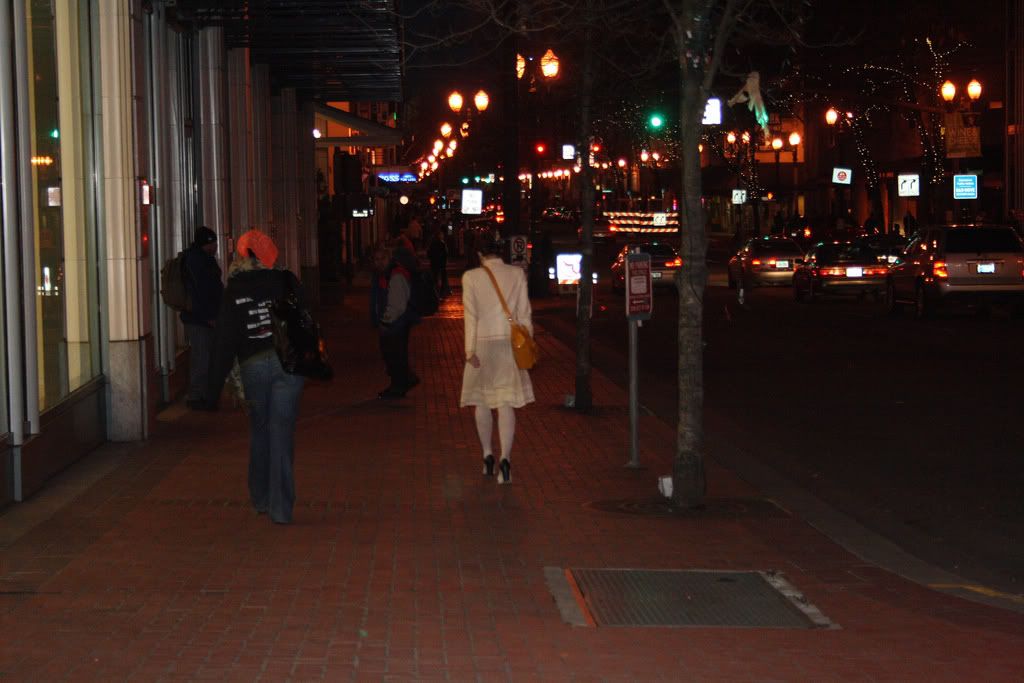 We spotted this woman clad in white across the street and when she walked over we tried to get her picture. But she completely didnt hear us because she had her iPod in her ears.
NOTE TO ALL: If ever you want to be captured by a photographer on the street, do not listen to your iPod!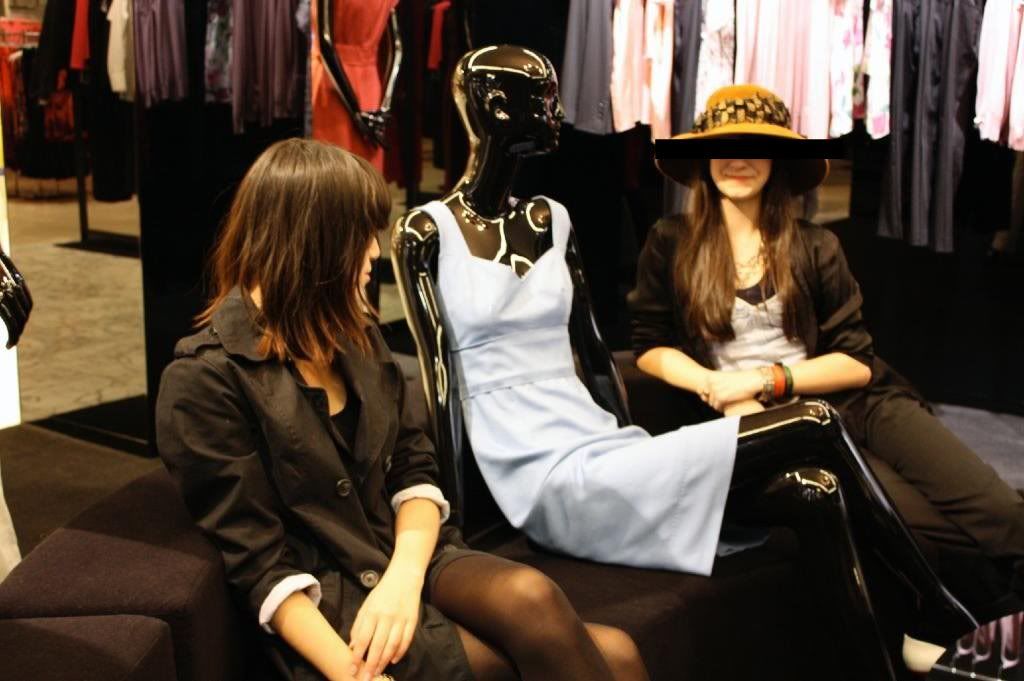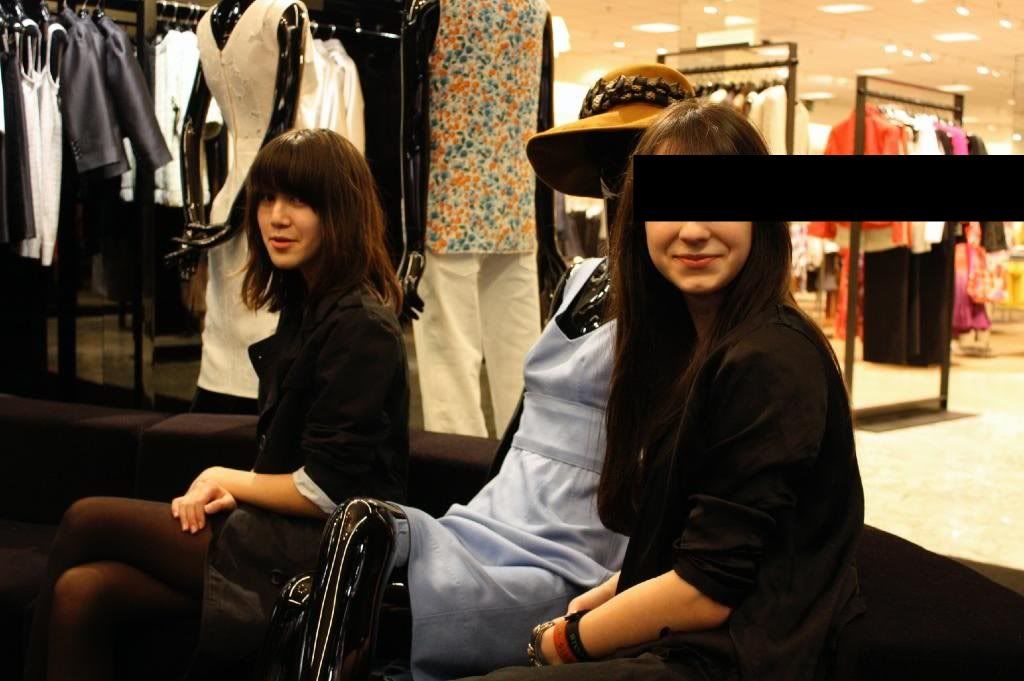 I gave the mannequin my hat because I think she needed it.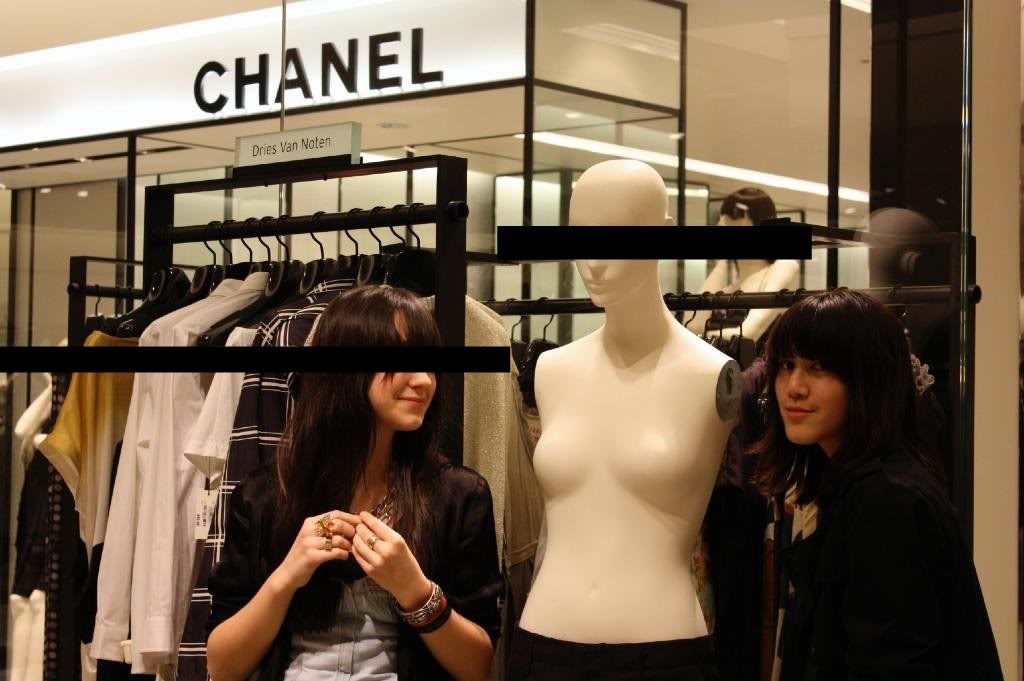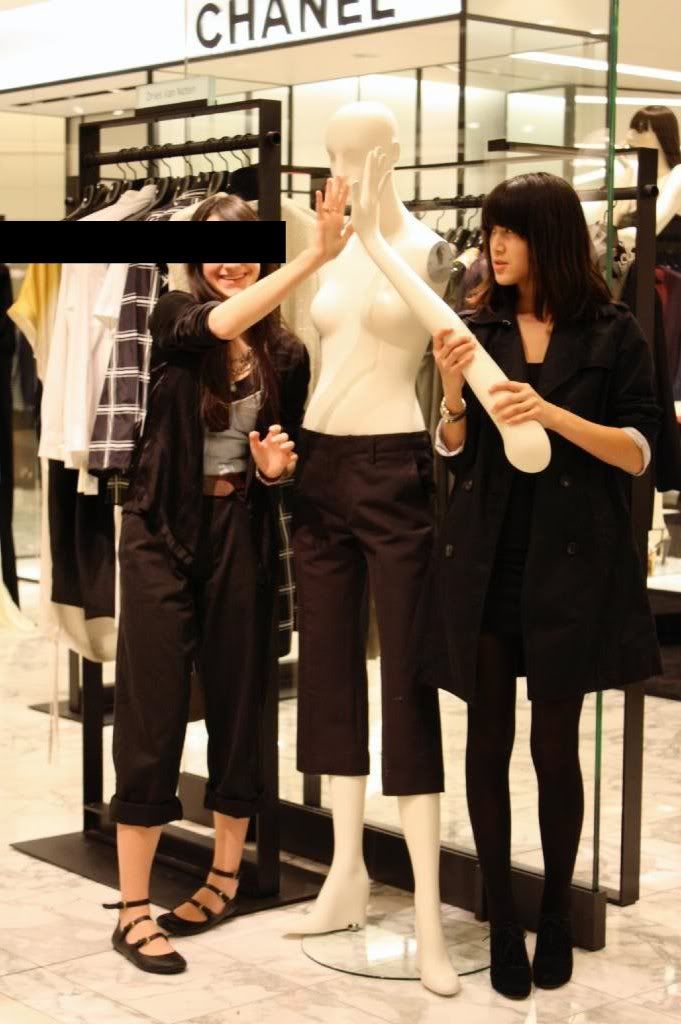 High five !
We had super duper amounts of fun talking about blogs, bloggers, photographer vs. timer, her trip to New York this next week (fashion week!!!!!!), and whether either of us wanted to go into the industry. It was such a great day, (it was not raining in portland!) and now I completely want to do it again. Hopefully we will!
Now I must return to the real world and catch up with all my homework, violin, and piano playing.