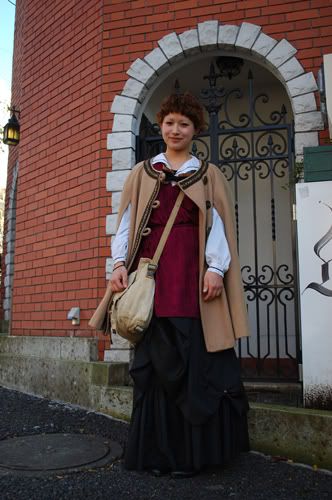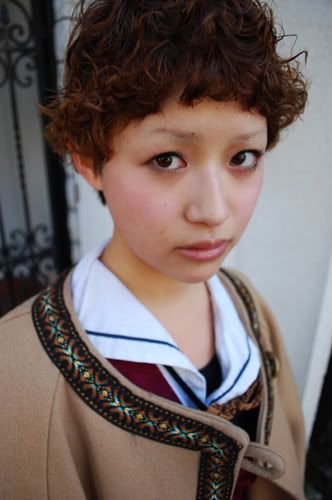 (dropsnap.jp)
So here is the Q&A! I asked you guys to be creative and some of you were, others were more practical, but every question was valid and fun to answer!

BTW, since Im doing two parts to this, feel free to add your question to the pile
here
, and comment (because Im doing a lot of talking and thats why I separated it all up)!

What is your favorite breakfast food?
I dont normally eat breakfast, just because I never have time, and I know they say that breakfast is one of the most important meals of the day, but I dont get up that early enough to get anything in my stomach. But, sometimes, my mom makes an incredibly piece of toast with butter and cinnamon. Its delicious.
Where do you live?
United States.
How did you become interested in fashion?
Honestly, I have no idea. Maybe it was my need to be different than everyone around me, and so subconsciously dressed differently than my fellow peers, but I think its mostly because my aunt and mother are incredible dressers and I grew up going to stores and watching them try clothes on and its just what we did. Haha, sounds kind of... vain..? But its just what we did.
Do you like grapes?
I laughed at this one. Yes I do, currently. But I went through a time when I couldnt stand them.
How old are you?
13
If you could star in any movie, which would you choose and why?
I originally had a really long winded answer for this, but Im just going to say; Pride and Prejudice. Because I love their english accents, the clothes they wear, and the frivolity of it all.
If you could live anywhere in the world, where would you live?
Oh gosh, so hard. I actually cant choose one place, because I plan on moving all over. London, France, New York, Italy. If I had to, though, just had to, probably new york because of the insane diversity of people and cultures, and then because I love theatre.
If you could only wear one color for the rest of your life, what would it be?
Navy! Navy is such a beautiful color, its unbelievable.
What is the most annoying thing ever?
Hmm. I dont really know. But, maybe, a person who says something, and then if people dont get it, or dont like what they said, the person who said it takes it back immediately and acts like they were joking, or says sorry. Im
not
saying if someone swears at you it should be okay, but if
you
said
you
didnt
like most of Betsey Johnson's pieces, and everyone else in the blogosphere said that Johnson was bomb, and then you would take it back, and say you were joking, yea, that? I dont really appreciate. Its not really annoying, but I dont respect the person as much because I think they are too reliant on being liked by everyone and wanting to fit in and be like everyone else. Be yourself! Ah, thats whats annoying, people that are afraid to be themselves. Im not saying that Im completely my own person, there is still, you know, some part of me, that refrains from wearing my Vivienne Tam flapper dress to school everyday, because, a little too strange and un practical, but I think that a person that completely jumps away from who they truly are, not showing their colors, is a sad, sad thing. I dont know if I wrote that in a way you understand. Tell me.
Do you like cheesecake? What kind?
LOVE Cheesecake. Plain ole Cheesecake is my favorite, my mother cooks a hell of a plain Cheesecake.
Pants (drop crotch, jeans, etc.), skirts, or tights/leggings?
Pants! Gotta love them, so many different kinds, high waist, trousers, wide legs, skinny, bootcut. So many choices!
What does your teachers and friends say about your outfits?
My peers have gotten used to my outfits, but when I just started "thinking outside of the box" I got a lot of mean reactions. I think the teachers like what I wear actually, because they lived through it...? You would think they would be sick of all the vintage stuff I wear cause it could have been worn during their
drug days
...But they dont. Hehe.
What is your favorite thrift store?
Goodwill, mostly because its close to me, but now their prices are somewhat more expensive, which is ridiculous for a second hand store. But I also love, its either, Volunteers of America, or Salvation Army. I dont know which one, but one of them I bought 3 vintage jackets, one you can see
here
, and two I have yet to debut. It was a really awesome score. (Also, stay tuned for my guide on how to shop in a thrift store, or something like that. Its something a reader suggested, and that sounds really cool.)
Why did you start this blog?
I got really interested in style.com and then teenvogue.com and then I wanted somewhere to voice my opinions on all of that, collections, photos, models, etc. So naturally this came up. Also, I was really inspired by The Clothes Horse and Karlas Closet and Style Bubble. Those were the first blogs I read religiously.
Which clothes are essential for a wardrobe (basics)?
1. Black tights (finally got a hold of a pair) both opaque and solid. 2. White tshirts. 3. Black blazer.
Why are we not allowed to see your eyes?
This question I was asked a couple of times. And a few of them people said that it was okay I didnt answer it, like it was a big deal...? I dont really know. Its not like Im hiding a third eye or a horendous unibrow, (both of which, I have neither, btw) Its strictly for privacy reasons. You dont really need to see what I look like in order to see my style.
Do you have a good relationship with your family?
This one made me laugh. I think I have a good relationship with my family. They all know about my blog (ALL of them) and they are really suportive. Its incredibly cool. Families are like that. Cool, I mean.
Girl, how you get to be so fierce? Nature or nurture!?
NURTURE, BABY! PURE UNADULTERATED LOVE. :P
Do you have a job?
Nope.
What was your favorite clothing item when you were little?
I think Im still "little" but I had a couple of pairs of jelly flats I loved. They were pink and sparkly.
Why are you interested in fashion?
Its a way to express yourself, and be personalized. Show who you are. Its really fun.
You had five blogs before this one, right? So what makes you keep wanting to blog on the Stylish Wanderer specifically?
Just mainly because I know, if I ended this one, Id probably come back again, so why end something that will just come back?
If one of you limbs could glow in the dark, which one would you pick?
My right arm! Heck ya!
What is your favourite perfume and why?
For christmas I just got Madame by Jean Paul Gaultier. Its fantastic. I think my cousin wants to steal it from me. Its really fresh and lovely, and I really like the
bottle
.
What is you're opinion on sturgeon(they are large fish that usually swim in lakes)?
This is my favorite question. I really hate eating fish, but maybe as a pet they are cool? Haha, no. I have cats. The sturgeon would die. Or my family would eat it.
Or both. I guess I like sturgeon, just not as food or as a pet.
How tall are you?
5 feet 6 inches.
What is your greatest dream/aspiration?
This is a lovely question, but really, I have so many. Publishing a book, performing in a concert, going to fashion week in Paris, stealing Dani Stahl's job away from her. Photograph people for a living. Im too young to decide!